US Poker Sites for iPad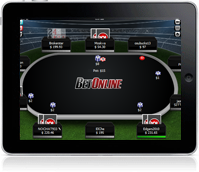 Ipad real money poker players in the United States have no good options at the moment. No U.S. iPad poker sites exist at the moment. I've seen before that Cake Poker hopes to interface with the Mac OS and IOS in the near future. If that happens, the Cake Poker Network (renamed Revolution Gaming Network) might be an option for American iPad and iPhone gamblers in the coming months. That remains a pipe dream at the moment.
UIGEA and Mobile Poker
The United States passed the UIGEA law in 2006, giving US anti-gambling agencies a stronger hand in freezing the assets of online poker sites which accept US players and the money transaction processing companies which serve them. Since then, the biggest poker rooms are out of the American gaming market. Though those sites have begun to design apps that would let iPad, iPhone, and iPod Touch users play for real money on their websites, that hardly helps American poker players. Mobile poker is still a nascent industry, though. For instance, Pokerstars still only has 4 poker tables for iPad users.
Are There Any Real Money iPad Poker Sites for USA Players?
At the moment no. We have listed two sites below, however the real money US iPad apps are not yet available to the public. The iPad sites below do however offer betting and online casino games for USA players.
BetOnline  - US Betting on iPad
I've read from multiple sources that BetOnline offers an iPad app. This iOS friendly application is supposed to offer iPad tablet, iPhone, and iPod Touch betting. Since BetOnline is a top casino, sportsbook, and poker room which accepts U.S. players, this is exciting news. Unfortunately, BetOnline only offers the iPad app for real money betting and / or casino. We do expect the site to release a poker app in the near future and will update this page once this is done.
Bovada - US Poker on iPhone
Bovada claims to have a poker for iPhone and iPad coming soon. Bovada is a successor site to the old Bodog site which began taking wagers online back in 1994. Bovada appeared in late 2011 and Bodog began redirecting their American players to that site. Later, U.S. authorities seized Bodog's domain. Since then, Bovada has stopped accepting US real money players from most US states. A few still accept Bovada players and their ads run on American radio, so at a time in the near future, a few US players may be able to gamble on their iPad using Bovada.
Are There Any Free iPad Poker Apps?
Zynga Live Poker is the largest online poker room in the world, with 38 million members. The only drawback for real money players is the whole operation is free. Zynga games became a huge attraction a few years ago on Facebook. Friends and family enjoy Facebook gaming as a way to connect with old friends and met new friends. Of all the game, Zynga Poker was one of their most successful releases. The Zynga poker app remains a huge draw. Besides Zynga Poker, you'll find a whole world of US iPad poker sites: BikiniPokerFree, MegaPoker Online, HeadsupFree, Imagine Poker, THtouch, and Poker Superstars III.
American iPad and Texas Holdem
If you're a US poker player and you want to learn how to play poker for real money on ipad for US players, remember that you can play using iPad gambling poker apps like Appeak Poker, Texas Holdem Poker Deluxe, Poker King Pro Texas Holdem, Bikini Poker, Live Hold'em Poker Pro, and Facebook Poker. These will give US iPad gamblers with poker tablet and IOS mobile phones entertainment until more real money apps are available. Until then, I hope the sites above can provide you with cash games.