Real Money Poker on iPad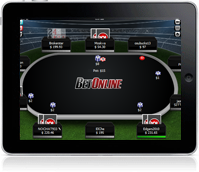 When you think about it, tablets like the iPad seem almost custom made for playing online poker.  The portability combined with the generous screen size and reasonable processing power makes for a device that is simply naturally suited for poker game.  Despite the obvious fit, playing online poker for cash on your iPad still involves more work than it ought to.  Not enough major rooms have apps specifically designed for the iPad, and of those that do, not many take advantage of the native features the iPad has to offer poker players. 
In breaking down the process of playing real money iPad poker, we'll identify the best current option for poker players, talk about the importance of fast-fold clients and the role iPad apps will play in driving innovation before concluding with some alternatives players can explore if they're unhappy with the available suite of poker apps for the iPad.
Best Option for Playing Online Poker on the iPad
It's pretty easy to hand this one to 888 Poker, as the room is one of only a handful of online poker sites that has released a dedicated app for the iPad.  The 888 iPad app for poker is definitely a solid offering, with support for cash game play and tournament play.  Stability, a clean interface and high usability all count as positives for 888 Poker's iPad app.
You can install the app directly from the App Store, or by visiting 888 Poker.  When you're playing at 888 on your iPad, you're using the same account you would use at the main room and you're participating in the same player pool as you would if you were playing using the desktop software.  You might notice a few differences between the 888 iPad app and the downloadable software; obviously the layout is impacted by the screen size and the features are limited by what Apple allows developers to include.  Those small differences aside, playing real money poker at 888 on your iPad is a reasonably similar experience to playing at the room on your laptop or home computer.
One drawback of the 888 iPad App: 888 Poker has yet to release a fast-fold client, so their mobile client offers a somewhat slower pace of play than rooms that do have such a feature.  Let's briefly touch on the relationship between fast-fold and mobile poker in the next section.
Best Option for US Real Money Poker Apps and iPad
As of right now, there are no real money iPad poker apps on the market specifically for US players. Sure there are plenty of US-friendly poker rooms, but none of them offer mobile compatible versions of their software. That said, real money iPad apps aren't necessarily restricted to Non-Us players. Sites like BetOnline and Slotland do provide an iPad app; but the iPad apps only provide you with access to the casino or Sportsbook. We do expect more real money poker apps for US players in the future, and will update this page accordingly once they become readily available.
Fast-Fold Clients Are Perfect for the iPad
Not familiar with fast-fold?  It's one term used to describe a format of poker that is unique to online sites.  The first fast-fold client was Full Tilt Poker's Rush Poker, but now over half of the 10 largest online poker sites offer a fast-fold option to players.  The way such clients work is simple:  Imagine you have 100 players.  In a normal room, those 100 players might be spread across 10 static tables with 10 seats each.  In a fast-fold game, those same 100 players exist in one central pool, and new tables are built out of the pool on the fly.  When you fold your hand at your table, you move from that table and go back into the pool, where you're instantly assigned a new table and a new hand.
It's clear why fast-fold is perfect for mobile poker; playing on your iPad can get a bit boring if you can only play one table at a time, and playing multiple tables can be a bit of a challenge given the screen size you're dealing with.  Having one table that constantly deals you new hands is the perfect solution to the problem.
iPad Poker Apps Will Drive Innovation
It's easy to imagine how devices like the iPad will drive innovation in the online poker industry.  As the number of potential players that own tablets increases, major rooms will start developing apps that make greater use of the full functionality of the iPad.  Whether it's voice recognition, video integration, the use of gestures to indicate bet sizes and actions or features that we can't even imagine yet, it's safe to say that the iPad - and devices like it - is a new frontier for online poker.
How Do You Play iPad Poker When There's No App?
Players do have some alternatives to apps for playing real money poker on their iPad.  The first is to find rooms that have browser-based clients not written in Flash.  The next is to jailbreak their device for the purpose of playing at a Flash-based client or an Android poker app.  Obviously that's a fairly extreme step for some people, and you will want to engage in a fair amount of research and consideration before choosing to do it.
A final solution is to rig it so that your iPad is accessing your home computer via any of the dozens of remote access programs available on the commercial market.  Just be sure that you test such a setup extensively before playing for real money on your iPad - you wouldn't want a lag or software glitch to cost you a big pot or accidentally muck aces.
Ipad Gambling Poker Apps
In the article on free poker iPad apps, I list a ton of free apps poker players can enjoy. I go into detail about Zynga Poker, VIP Poker, Live Holdem Poker Pro, Bikini Poker, Texas Holdem Poker Deluxe, Appeak, and Poker King Pro-Texas Hold'em, but I wanted to mention them in game you're in a hurry for poker on iPhone or iPad and you never get to that page. American poker players with iOS devices can learn more about their opportunities for Texas hold'em on the United States iPad poker sites page, though their mobile gaming opportunities are a lot more limited than most of the rest of the world, though their free poker apps are countless. If you like poker on the Apple iOS, you'll be able to find entertainment. I hope this site makes your search quicker, easier, and more informative.